To keep pace in a constantly changing world, we have to stay agile and learn new skills to reach our full potential.
IMI's suite of programmes range from Business and Functional Excellence to Management and Leadership to Personal and Career Development and all are designed to deliver high-impact solutions to take your organisation to new heights.
Learn, Grow, Thrive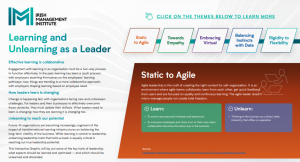 Future-fit organisations are becoming increasingly cognisant of the impact of transformational learning infrastructures on bolstering the long-term viability of the business. While learning is central to leadership,
unlearning leadership traits that hold us back is equally critical in reaching our true potential.
This Interactive Graphic on 'Learning and Unlearning as a Leader' focuses on key polarities that leaders are faced with in their day to day, with insights on how they can infuse themselves with new knowledge and what they should discard, including:
Static to Agile: The agile leader can find the balance between micro-managing people and creating freedom for people to create and thrive.
Balancing Instincts with Data: How much should leaders rely on number-crunching and how much should they trust their gut when making key decisions?
Embracing Virtual: How can leaders develop the skills to create the norms for virtual communication and move away from a transactional form of leadership.
To discover how your organisation can benefit from our programmes and cutting-edge thought leadership, please fill in the form above to receive a copy of our Interactive Graphic on 'Learning and Unlearning as a Leader'.