Related
A&L Goodbody partners with IMI for unique lawyer development programme
Irish businesses pass Covid-19 'stress test', according to IMI-CUBS research
IMI reveals new charity partners for 2022
IMI to partner with Samaritans, Pieta House and A Lust for Life in 2022 
Charity staff to benefit from complementary IMI executive development opportunities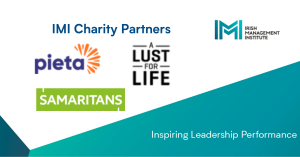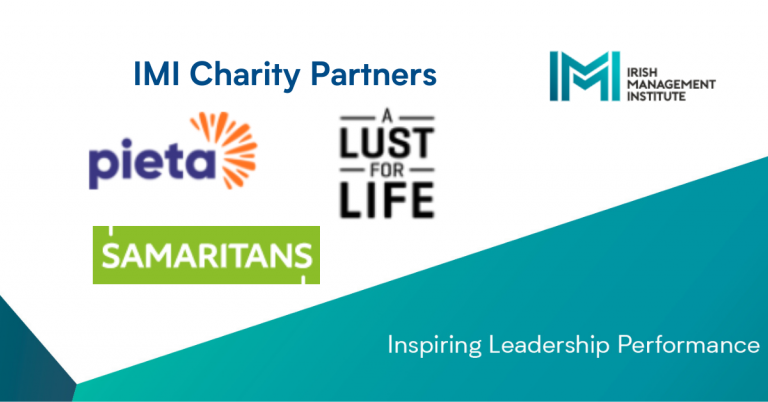 IMI has been partnering with charity organisations since 2014, empowering their leaders to enhance the capabilities and skills they need to deliver for the people they serve. These partnerships have been instrumental in fulfilling our mission as we play our part in equipping their leaders to build the future.
In 2021, IMI partnered with the Irish Cancer Society and the Alzheimer Society of Ireland, with 120 staff members across both organisations benefitting from complementary executive development opportunities to the value of €315,000. Both charities hailed the impact of the programmes and the organisational benefits that they would provide 'for years to come'.
We are delighted to announce our charity partners for 2022 are:
Samaritans
Pieta House
A Lust for Life
With 21 branches all over Ireland run and maintained by a dedicated network of volunteers, Samaritans offer listening and support to communities in times of distress.
Anne Corcoran, Relationship and Operations Manager with Samaritans, said: "Samaritans Ireland is delighted to be chosen as one of the charity partners by IMI. Some of our staff have enrolled in the short programmes which will enhance their leadership and innovation skills. We believe, in turn, this will support their ability to deliver our key priorities alongside colleagues and volunteers and achieve our vision of fewer people dying by suicide."
Since opening in 2006, Pieta House has seen and helped over 60,000 people in suicidal distress or engaging in self-harm. They operate 23 centres across Ireland and in 2021, their helpline team answered over 70,000 calls and texts.
Fionn Faherty, Corporate Partnerships Trust & Foundations and Major Donors Manager with Pieta House, said: "Pieta is so thankful to be one of the chosen charity partners with IMI. This partnership will help offer new skills to the team at Pieta to sustain our free, lifesaving services and will help those in distress move to a place of hope and light during these most challenging times. This wonderful partnership will help us in providing our service which offers one to one counselling for people who are suicidal, people engaging in self-harming behaviours and people who are bereaved by suicide, and for this we are extremely grateful."
A Lust for Life is a multi-award winning charity that uses content, campaigns and events to empower young people to prioritise their mental health and grow into the leaders of the future.
Ciara O'Connor Walsh, Director at A Lust for Life, said: "A Lust for Life is absolutely delighted to be selected by IMI as a charity partner. The partnership comes at a fantastic time for us as a charity, as we are about to embark on a new three-year strategic planning process and we are now taking the opportunity to be trained in world-class programmes, in mission-critical areas that we really need to develop; from strategy and innovation to organisational change and management as we continue to grow.
"As a small charity, it isn't often we get to invest in our people, so this is a wonderful way for us to grow our staff and board's skills in line with what the charity will need in the coming years. This kind of training is worth its weight in gold for us – we can't thank the staff and trainers at IMI enough for what has already been a game-changing partnership for us."
The staff of the charities will have complementary access to a range of high-impact programmes across IMI's portfolio of Short Programmes, as well as to our suite of Professional Diplomas, awarded by UCC.
Dr Simon Boucher, CEO of IMI, said: "We are proud to empower the dedicated staff of our new charity partners to equip their leaders to build the future and, in doing so, to make a sustainable and positive impact on the lives of those they serve."
To donate to the Samaritans, go to https://www.samaritans.org/ireland/donate-now/
To donate to Pieta House, go to https://www.pieta.ie/support-our-work/donate/
To donate to A Lust for Life, go to https://www.alustforlife.com/amplify-our-voice