In Brief
Next start date:
Who is it for:
Business owners, general managers and senior tourism managers
Facilitated Workshops:
Duration:
Fee per applicant: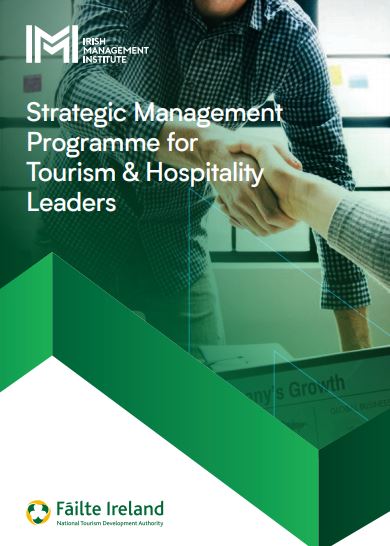 Download the Brochure
Why choose this programme?
The IMI Hospitality and Tourism Strategic Management Programme, created and delivered in partnership with Failte Ireland, is designed for organisations wishing to create a competitive advantage in an unpredictable marketplace.
It will support business owners and general managers to attain operational excellence in the areas of strategy, sales, marketing and finance, as well as developing them as future-ready leaders.

Strategic Roadmap
Conduct a Business Diagnostic and develop a clear strategic vision and direction for the business.

Value Proposition
Articulate a clear value proposition matched with a focused sales and marketing position.

Sustainable Finance
Develop robust financial plans to fund growth and manage against a downturn.
Client success stories
We sat down with participants from the first Strategic Management Programme for Tourism & Hospitality Leaders and asked them how it has allowed them to look at their business in a new light, devise new strategies and take concrete next steps.
Key takeaways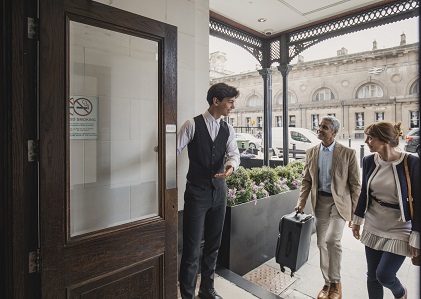 Growth
Grow your business in upturns and downturns.

Get the financial insights into your business that will allow you to plan for a sustainable future.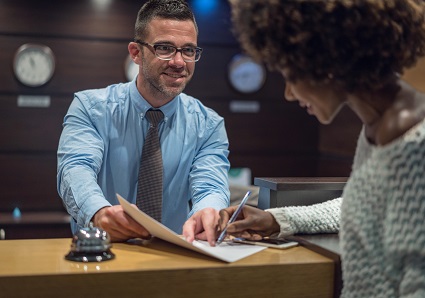 Sales and Marketing
Grow your customer base.

Devise sales and marketing strategies that will allow you to reach your customers at the right time and in the right places.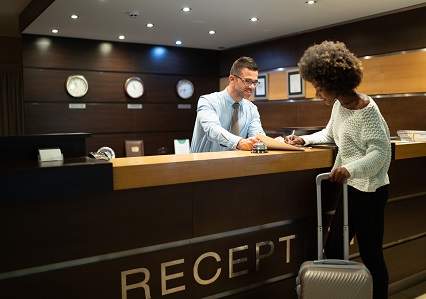 Strategic Vision
Define, refine and implement a strategic vision.

Take a deep-dive into your own business through the Business Diagnostic and see what the real challenges and opportunities are.

Programmes themes
Business Diagnostic Framework
Apply this modern business diagnostic framework for the tourist sector to your business.
Strategy and business planning
Create a strategic, actionable business strategy for your organisation.
Financial management
Develop the financial knowledge to understand and analyse financial accounts, applying tools to prepare future financial plans.
Sales and marketing
Formulate a sales and marketing approach for your business based on customer, competitor, segment, market and company analysis.
Leadership and managing change
Greatly enhance your practical leadership skills and learn how to influence and impact those around you.
Implementation
Translate strategic planning concepts into actionable steps for your business.
Business plan presentations & graduation
Present your strategic project.
What our participants say
I wanted to understand what was really happening in the business, but never had the time to step back and look at it strategically. The business diagnostic tool allowed me to really focus on what we could actually do to meet the challenges out there - the programme will have a big effect on the business over the next five years.

Nicola McDonnell

Irish Whiskey Museum
We faced a real directional challenge – where our company will be in 5 – 10 years – and I found the programme to be very beneficial for choosing the direction we want to go. We can see a tangible improvement in our business as a result of the programme.

John O'Neill

Hamlet Court
Client success story: Delphi Resort
Sabina Cox, Delphi Resort, decided to embark on the Strategic Management Programme for Tourism & Hospitality Leaders to improve the financial and operational elements of managing the Delphi resort business.

The programme allowed her to look at her organisation through a new lens and develop new strategies to overcome the challenges they were facing.
Programme Partners
We are proud to partner with Fáilte Ireland for the Strategic Management Programme for Tourism & Hospitality Leaders. Fáilte Ireland is the National Tourism Development Authority.
Related Programmes
IMI run a number of sector-specific programmes, aimed at bringing industry together on a consortium basis to share challenges and solutions under expert guidance.