Related
IMI Awards Life Fellowship to Aongus Hegarty
IMI Awards Life Fellowships to Irish Business Leaders
IMI Awards Life Fellowship to Anne O'Leary and Liam O'Mahony
Anne O'Leary, Vodafone Ireland Chief Executive, and Liam O'Mahony, former CEO of CRH, awarded IMI Life Fellowship
'Two leaders that have built the future of Ireland' said Terrence O'Rourke, IMI Board Chairman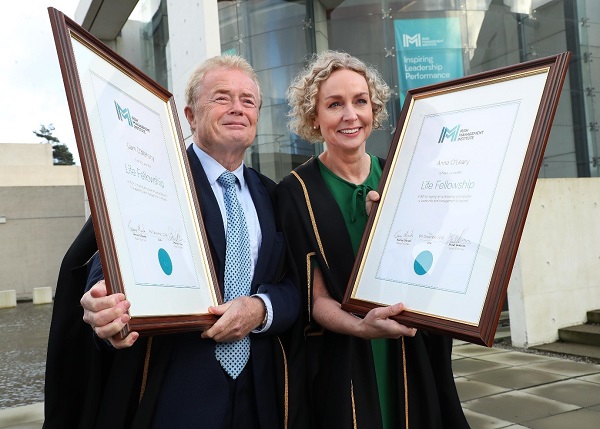 IMI today conferred Life Fellowship on Anne O'Leary, Chief Executive of Vodafone Ireland, and Liam O'Mahony, former CEO of CRH, for the contribution they have made to Irish business and society. The award was given during IMI's graduation ceremony in front of a full house of recent IMI graduates and their families.
'Life Fellowship is the highest honour bestowed by IMI and is a public recognition and celebration of those people who have made a significant contribution to the practice of management and business leadership' said Terrence O'Rourke, IMI Board Chairman. 'A Life Fellow is someone who has lived, practiced and worked to fulfil the mission of IMI. They have helped raise all our standards and this country would not be quite the same without Anne or Liam and the work that they've done.'
Anne O'Leary joined Vodafone in June 2008 before assuming her current role in 2013 and the work she's done for Vodafone, the city of Dublin, and the country-at-large has made her one of our most visibly successful business leaders. She also served as President of the Dublin Chamber of Commerce in 2018 and is heavily involved in bring greater diversity to all levels of business in Ireland.
'What I say to other leaders is to reflect on the privilege and the role you have and how you can make a difference, not just for the company you are in, but to create a better Ireland for the next generation; a society we can be truly, truly proud of' said Anne O'Leary during her acceptance speech.
Liam O'Mahony is one of Ireland's most successful business leaders, leading CRH in various roles including as Chief Executive for nearly a decade. From streamlining the company's Irish operations in the early 80s, he bedded down many of the US acquisitions around the same time and became chief operating officer in the US division. He was also instrumental in turning around CRH's UK operations in the 1990s before returning to his role in the US. During his time as head of operations in the US, CRH went from $700 million dollars' worth of sales to a $56 billion dollar business.
Today, CRH is the largest building materials company in the US, and the second biggest in the world.
'The common themes running throughout my professional life have been people, excellence and commitment' said Liam O'Mahony during the ceremony. 'I would like to thank both IMI and UCC – I'm a graduate of both – for being great supporters of Irish business and for the effect the two institutions have had on my life. It makes this award all the more special for me.'
Anne and Liam join a prestigious list of business leaders and thinkers including T.K Whitaker, Peter Drucker, Peter Sutherland and Gillian Bowler to have been awarded Life Fellowship.
'Life Fellowships gives us something to aim for – an exemplar to judge ourselves against' said Simon Boucher, CEO of IMI. 'Aongus has personified IMI's mission to 'inspire leadership performance' throughout his career and we believe it's appropriate to recognise his achievements, as he exhibits what we believe leadership should look like.'
Recent Life Fellowship recipients include:
Aongus Hegarty, President of Dell Technologies for EMEA
Cathriona Hallahan, Microsoft Ireland Managing Director
Dr Phil Nolan, former Chairman of Ulster Bank
Siobhán Talbot, Glanbia Group Managing Director
Stan McCarthy, former Chief Executive at Kerry Group
Helen Ryan, who was a major influence in Ireland's growth as a medical device sector hub
Dr Leisha Daly, Country Director of Janssen (part of Johnson & Johnson)
Vice Admiral Mark Mellett, Chief of Staff of Ireland's Defence Forces
Sean Dorgan, who was Chief Executive of IDA Ireland for nine years
In 2019, IMI became the first in Ireland to break into the prestigious global top 50 in executive education rankings, as published by the Financial Times.
Recently, IMI climbed 8 places in the European Business School Rankings and in 2019 became the first in Ireland to be simultaneously listed on both the Customised and Open global rankings.