Is HR delivering the value add required to CX? Are we doing enough? Any opportunities for adding greater value?
How closely aligned is our HR agenda to the CX agenda?
What's the impact our HR Department is having on CX? Can we increase it? How are you measuring it?
How much of a change / shift in how HR professionals think, position, develop and organise themselves in my organisation will be required to get our HR Department to add real value to CX? And what are you going to do about it?
__________________
Pedro Angulo is the Programme Director of the IMI Diploma in Strategic HR Management and contributes on the IMI Diploma in Executive Coaching. Pedro is an Organisational Effectiveness Business Partner in AIB and Chairperson of the Irish EMCC (European Mentoring and Coaching Council). He is a m
otivational speaker and regular presenter at HR, coaching, change and business conferences / events. [post_title] => Can HR add value to the Customer Experience? [post_excerpt] => [post_status] => publish [comment_status] => open [ping_status] => open [post_password] => [post_name] => can-hr-add-value-customer-experience [to_ping] => [pinged] => [post_modified] => 2020-05-11 19:53:05 [post_modified_gmt] => 2020-05-11 19:53:05 [post_content_filtered] => [post_parent] => 0 [guid] => https://www.imi.ie/?p=15820 [menu_order] => 0 [post_type] => post [post_mime_type] => [comment_count] => 0 [filter] => raw ) [2] => WP_Post Object ( [ID] => 12166 [post_author] => 68 [post_date] => 2015-10-07 11:00:35 [post_date_gmt] => 2015-10-07 11:00:35 [post_content] =>
Yves Morieux is a Senior Partner and Managing Director at The Boston Consulting Group, a BCG fellow and director of the BCG Institute for Organisation.Yves' Six Simple Rules of Smart Simplicity, has helped CEOs with their most critical challenges, for instance, moving their companies from quasi bankruptcy to industry leadership.
He will be a keynote speaker at the IMI National Management Conference on 8 October 2015. 
1. What is the chief thing that managers/leaders get
wrong
about what effective leadership means today, in your experience?
Managers often don't understand what their teams
really
do. They understand the structures, the processes, the systems. But this is not what people do – it is what people are
supposed
to do.  A company's performance or a department's performance is what it is because people do what they do, because of their actions, decisions and interactions – their "behaviours".  Because we don't understand what people do, we create solutions – new structures, processes, systems, scorecards, incentives, training, and communication – that don't address the root causes. We don't solve the problem, we simply add more internal complicatedness. And the more complicatedness we create, the less we understand what is really happening, the thicker the smoke screen, and then the more rules we add. This is the vicious circle of modern management. This is why the first rule of what I call Smart Simplicity is "
understand what people really do at work
."
2. Do leadership principles work best when understood as a top-down process, or is this understanding of leadership out of touch with the modern workplace?
From collaboration to performance to employee engagement, everything we know about work is changing – but our businesses are seemingly slow to respond. People are more attuned to sharing posts, writing blogs, and providing instant feedback through 'likes' and 'favourites' than they are to completing surveys, so why does our approach to employee engagement still centre on a set of fixed statements and a rating scale? In their personal lives people collaborate naturally with those around them and have an amazing propensity to share even when there is no immediate benefit to them, hence the success of crowdsourcing sites like Wikipedia. So, why do we spend so much time and energy in organisations on encouraging people to practice these seemingly natural behaviours at work? The challenge for businesses is to disrupt every process and practice in the organisation by asking: Why does it exist? What are we trying to achieve? If we were to start the organisation from scratch, would we choose to create this? And perhaps most tellingly of all, would this practice exist if we trusted our employees?
3. A core feature of your approach to leadership and better workplace productivity is the concept of 'Smart Simplicity'. How does this play out in a world where the data available to companies now – be it through consumer feedback, predictive modelling, data analytics etc – has surged? Does the effective use of all of this data necessitate more complexity, rather than simplicity?
The environment is more complex – the problems to resolve in order to attract and retain customers, in order to create value and build competitive advantage – are more demanding than in the past. This is a fact of life. Based on our analysis, complexity has been multiplied by 6 over the last 60 years. The real problem is not business complexity. The real problem is internal complicatedness – the solutions companies typically use to try to respond to this complexity: a proliferation of cumbersome structures, interfaces, coordination bodies and committees, procedures, rules, metrics, key performance indicators and scorecards. Based on our analysis this complicatedness has been multiplied by 35! This complicatedness creates obstacles to productivity and innovation. People spend their time writing reports, in meetings. There is more and more work on work, and less and less work! A lot of data, a lot of information is always good. The difficulty – and the value-added – is sense-making, to derive meaning and knowledge from the data, so that companies can interpret and act on the data. But complicatedness makes it increasingly difficult for companies to make sense of the data. There is at the same time a data indigestion and a knowledge deprivation.
4. When it comes to Irish businesses, how do their workplace dynamics compare with other countries and what would be your principal advice to them on what to change?
Irish businesses face the same problems as other mature economies. They need to manage the new business complexity without getting complicated. Smart Simplicity is not about becoming simplistic, we cannot ignore the new complexity of business. This is why I refer to "Smart" simplicity. The six rules of Smart Simplicity concern Irish businesses because Irish businesses are also confronted to a greater complexity.
5. Should business leaders focus more on improving employee productivity per se, or should this be balanced with also ensuring that staff are happy at what they do and not afraid to be creative? How does one strike an effective balance?
We must not strike a balance here! We must break the compromise between productivity and happiness or creativity. We must not improve one at the expense of the other. In fact organizational complicatedness hinders productivity while demotivating people and making them suffer at work. They lose direction, purpose and meaning in the labyrinth. They have to work longer and longer, harder and harder, but on less and less value-adding activities. This is why Smart Simplicity and removing complicatedness
simultaneously
increases performance
and
satisfaction at work: because you remove the root-cause common obstacles that hinder both.
6. What do you think are the key organisational challenges that face a country like Ireland over the next few years, for both business managers/leaders and their staff?
Organizations are going through a deep revolution in their ways of working. We are going through a new economic revolution, and every economic revolution entails and organizational revolution. The organizational solutions on which we have built profitable growth over the last 30 years are obsolete.  Irish managers and employees will have to invent new ways of working. Smart Simplicity provides guidelines for this, but what mainly matters is boldness and courage in breaking with conventional wisdom. Irish people are certainly well placed in this respect!
Yves Morieux is a keynote speaker at the IMI National Management Conference taking place on Thursday 8 October. Apologies but this event has now reached maximum capacity. 
[post_title] => "Understand what people do at work" Six Word Wisdom from Yves Morieux [post_excerpt] => [post_status] => publish [comment_status] => open [ping_status] => open [post_password] => [post_name] => understand-people-work-six-word-wisdom-yves-morieux [to_ping] => [pinged] => [post_modified] => 2020-05-11 20:38:20 [post_modified_gmt] => 2020-05-11 20:38:20 [post_content_filtered] => [post_parent] => 0 [guid] => https://www.imi.ie/?p=12166 [menu_order] => 0 [post_type] => post [post_mime_type] => [comment_count] => 0 [filter] => raw ) )
Related Articles
Are you enabling people to trust you?
Can HR add value to the Customer Experience?
"Understand what people do at work" Six Word Wisdom from Yves Morieux
Double the likelihood of your customer returning – the power of sustainable customer loyalty
Customer loyalty is one of those ubiquitous buzzwords that is bandied around every sales meeting and boardroom, yet most organisations fail to properly grasp how to generate, nurture and cultivate this valuable source of revenue.
The cheapest and most valuable leads are the ones that are already in your address book, yet very little seems to be known about what makes a customer buy from us again and again.
So misunderstood is this golden egg paying goose that many organisations have come to erroneously confuse constant contact with loyalty; they think if they continue to send out sales letters, make courtesy calls, and distribute email newsletters that their customers are engaged and therefore more likely to prop up their balance sheets all year long.
Be Aware of the Quick Fix
When faced with the challenge of building loyalty, even the most experienced organisations tend to fall into the well-trodden and vastly ineffective, track of 'the gimmick'. Offering returning customers, a discount for a second order, or an attractive bulk deal, or even a free gift all seem like viable options.
In truth though, unless the customer specifically asked for some incentive, they're likely already fairly satisfied with your pricing model. Instead of encouraging a more engaged relationship with your clients, it may serve to debase the perceived value and quality of your product lineup and reduce the buying decision to 'cheapest deal wins'.
Even the term 'loyal' is misleading. Loyalty implies that customers need to be attracted and seduced, at any cost, via some cleverly invented scheme when in truth loyalty is in more about 'retention' than 'invention'.
Retaining an already won client is less about the carrot and about the likelihood that they'll stick with your offering over any other when you've met their expectations.
You can't put a price on a promise, and the first step to retaining a client is keeping yours. According to Gartner, roughly 20% of your current client base are generating 80% of your profits, so the key for any business to survive and grow is to build sustainable sales stream from within your existing set of customers.
So how do we build and retain loyal customers that continue to buy from us again and again? According to recent research, it's much simpler than you might have hoped.
Punch Me, Please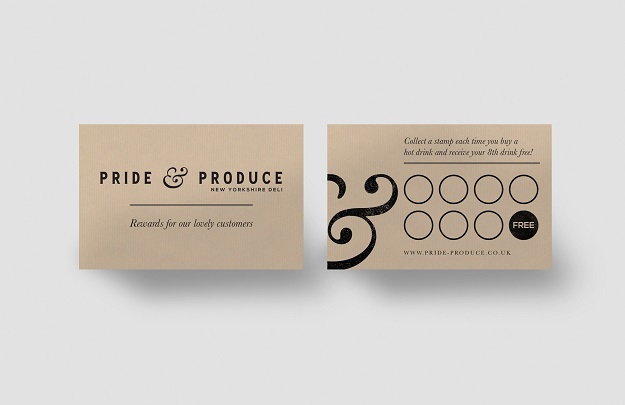 Coffee and sandwich bars are my office, and when I'm not at an event I can most likely be found surfing the circuit of free Wi-Fi wielding coffee shops in the city. I've accumulated an embarrassingly large collection of heavily punctuated loyalty cards to prove it.
Every time I order a sandwich at one of my regular stops, I get a single 'smiley' shaped punch on my card and the server explains that I get a free lunch after ten punches.
When I've had three sandwiches and three smiley faces, my progress could be seen in two ways – I'm either already 30% of the way to getting my promised free meal, or I've 70% to go.
The question is, which of these two views is more likely to compel me to get that card filled with the holes? Which view is more likely to make me return again and again to get that elusive free meal?
The answer comes when the customer moves from one step to the next and, crucially, how they perceive that progress. If I feel I'm making progress I'm happy, no matter how long the ultimate journey seems to be.
When we watch our kids play seemingly endless games on their phones they are being caught in this loop – at each level the flashing lights and sounds tell them they are making progress, even if the game can never be finished.
Test It and See
Recent research has found that a person's likelihood to successfully achieve a goal of any kind is enhanced if they focus on the small incremental progress they have achieved so far, rather than the large amount of effort that may be left.
According to the Chicago School of Business, one possible explanation for why focusing on even a small point of progress might increase motivation is because the impact of each action can appear larger. An action that takes someone from 20% completion of a task to 40% is a doubling of progress. In contrast, moving from 60% completion to 80% represents just 33% progress.
To test the phenomenon, nearly 1,000 customers were enrolled in a loyalty scheme where they would receive a complimentary lunch after they had bought ten. 50% of the subjects were given a card that was rubber stamped with a sushi symbol every time they made a purchase from the lunch menu, thereby purposefully drawing their attention to the incremental progress they were making towards the freebie.
The remaining 50% were given a card that already had the sushi symbols printed on it, and every time they made a purchase a sushi symbol was removed using a hole-punch, thereby specifically drawing attention to the amount of effort that remained before their bonus meal. So which goal/target system was more likely to instill loyalty?
The first group, who were focusing on their incremental progress, was twice as likely to be retained as a customer and return to get their card stamped when compared against the group whose cards were already punched. Not only were they more likely to come back, but more interestingly the returned sooner and more frequently – on average returning four days sooner than the 'punched' group.
By focusing on what's been done, and not what's left to do, we can increase customer loyalty by almost double, leading to a more active sales team, and demonstrably better sales over time. Even line managers will find that emphasizing the smaller steps that their team is taking towards performance targets is more effective than focusing on the finish line.
Leadership Outcome
The corporate implications of these findings are huge. Put simply, whether your goal is to improve your organisations ability to retain existing customers, to increase the likelihood of your sales team reaching their monthly yield, or to simply motivate someone (including you) to finish something they've started, remember to focus on what's been done, NOT what's left to do.
You've already taken the first step on the road by reading this, after all, so that's probably 30% of the work done – right?
Upcoming Events
If you are interested in hearing from world-leading speakers at IMI, you might be interested in these upcoming IMI Membership events.
Find out more