Why choose this programme?
Although disruption has always been a constant threat, the rise of digital technologies has accelerated the pace of disruption in practically every industry.
Emerging markets are offset by novel competitors, new technologies create efficiencies while eating into traditional revenue centres, and agile innovation becomes a competitive necessity.
The Professional Diploma in Digital Leadership draws on the latest research and best-practice to give you an integrated view on what it takes to lead during this era of digital disruption.

Innovation
Drive the cultural and organisational shifts needed to achieve technology led innovation.

Customers
Bring more customer-centric design thinking to create new product or service development.

Strategy
Map available and emerging technologies onto your business strategy.
In Brief
Next start date:
Location:
Duration:
Facilitated Workshops:
Seniority:
Non-member fee:
SME:
Member fee: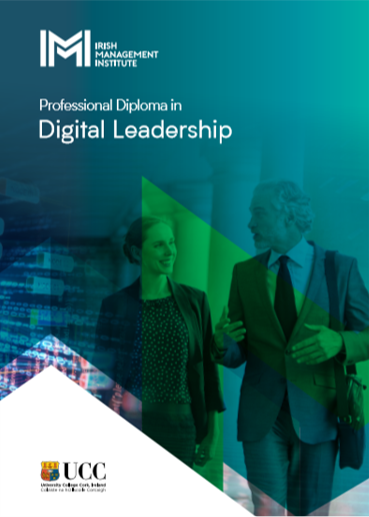 Download the Brochure
Facilitated Workshops
This Spring 2022, Facilitated Workshops will be a blended format. Some classes will be via the IMI Virtual Learning Environment (VLE) to your desktop, and some classes will be onsite at the IMI campus in Dublin.
Dates are as follows:
09, 10 & 11 May 2022 – In person
07, 08 & 09 June 2022 – Virtual
11, 12 & 13 July 2022 – In person
31 August, 01 & 02 September 2022 – Virtual
03, 04 & 05 October 2022 – Virtual
01, 02 & 03 November 2022 – In person
Key takeaways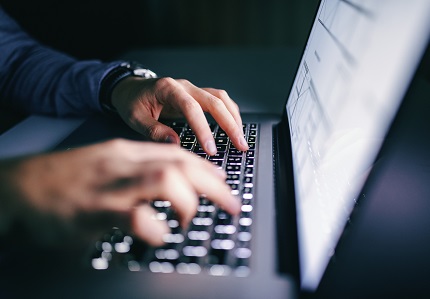 Digital Leadership
Lead from the front. Develop the ability to design and implement processes for the creation and commercialisation of digital innovation.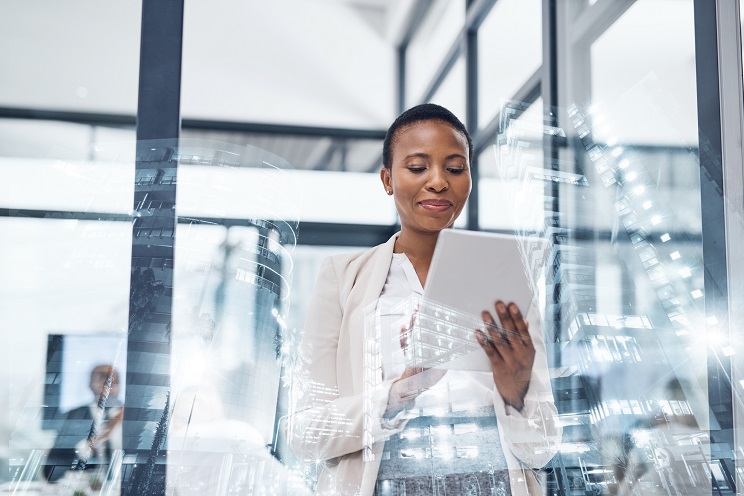 Create Value
Maximise the business value of technologies, from processes to platforms. Create data driven strategies and critically analyse the results.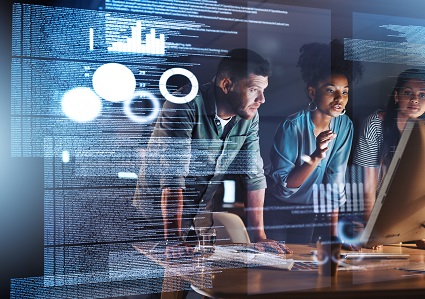 Future Growth
Equip yourself with the tools you need to assess your organisation's strategy in a landscape where constant innovation is needed for growth.
Programmes themes
Digital Leadership and Strategy
Gain a deeper understanding of how digital leadership and strategy differ from traditional approaches.
Assess digital models and frameworks and research techniques that will give you a new lens to formulate organisational strategies.
Critically evaluate the digital strategies and leadership practices of their own and other organisations.
Apply digital leadership and strategy tools and techniques to your own organisation's unique challenges.
Be able to clearly articulate your digital strategy to stakeholders at all levels – including the boardroom.
Digital Disruption and Transformation
Identify the latest digital trends, technologies, platforms, and business models driving the need for digital transformation of your organisation, appraising likely threats and opportunities.
Develop the mindset and tactics needed for you and your organisation to be agile in an era of disruption.
Apply digital disruption and transformation tools to your organisation's challenges.
Produce a business case for the further investment and adoption of digital technologies in your own organisation.
Digital Innovation
Challenge and disrupt your own thinking and develop new mindsets and behaviours required for an effective digital transformation.
Assess and deploy models of innovation that you can use to rewire your organisation's processes, structures, and capabilities.
Apply design thinking to investigating and implementing change in your own or other organisations.
Bridge the gap between strategy and execution, bringing new innovations into the core of how your organisation works.
Digital Transformation Project
Conduct a Digital Transformation project that utilises strategic processes, business models and technology opportunities to create an applicable business strategy for your organisation.
Related Programmes
If you're interested in the Professional Diploma in Digital Business, you may also be interested in our other diploma in our 'Strategic Thinking' suite.