Related Articles
IMI Celebrates First Graduation Ceremony of the Year
IMI celebrates its first graduation ceremony of 2019
CPD 1 2015: Working with Mindfulness Follow Up
IMI Graduates Tackle the Winds of Change
Irish Examiner October Graduation
Innovation 4 Growth Winners Announced at Clontarf Castle
Graduates Conferred in Strategic Tourism Training Programme
The first graduates of the joint Fáilte Ireland and Irish Management Institute (IMI) Hospitality and Tourism – Executive Development Programme received their certificates today.
The first ever strategic management training programme for tourism businesses conferred 19 senior tourism business managers with their certificates at a ceremony at the IMI in Sandymount, Dublin and already a number of these participants have secured promotion either within their own group or with new employers.
Speaking at the graduation ceremony, Orla Carroll, Director of Product Development at Fáilte Ireland, said that the Executive Development Programme was designed to meet the challenges of modern tourism – particularly changing visitor expectations. She emphasised:
"International tourism is undergoing a transformation in how it is developed, marketed and managed – driven by rapidly changing visitor expectations. Business tourism organisations require executives with real leadership qualities and this Programme is specifically tailor-made to give senior level managers a grounding in key areas – including Strategy, Leadership, Sales & Marketing & Finance. In many ways, the success of any course can be measured by the opportunities it provides to those who undertake it and since this programme started in early January, many of the participants have already progressed within their careers."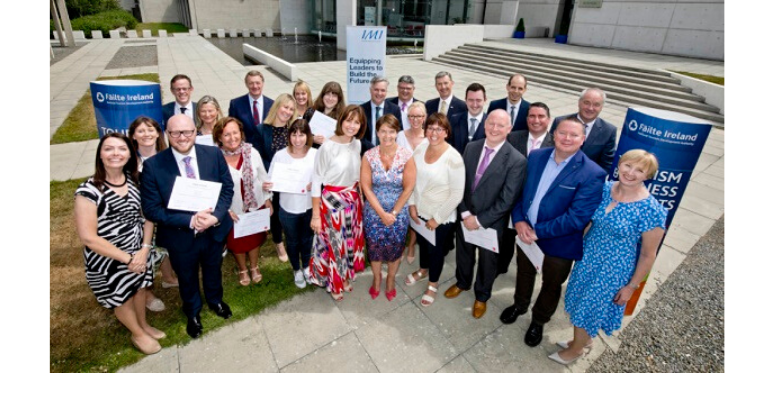 Julie Ryan, Head of Customised Executive Programmes at IMI, added: "IMI is delighted to be working in partnership with Fáilte Ireland on the Hospitality and Tourism Executive Development Programme."This programme, which brings senior leaders and general managers from across this sector together in a collaborative learning experience, will enhance the standard of leadership practice to ensure Irish tourism leaders are Brexit-ready, and position Ireland for long-term sustained growth as a top-quality tourist destination."
Speaking about the benefits of the programme, Niall Burns, Resort Operations Manager at the Slieve Donard Resort & Spa in Newcastle, Co. Down said: "The programme was excellent, bringing lots of ideas, with substantial in-depth knowledge together with case studies, learning from experience and being fully practice-oriented. It has further equipped me with new skills that will help me implement new strategies and procedures that, in turn, will allow me to focus on business growth and sales. A must for hospitality professionals wanting to improve both their own and their businesses outlooks."
John O'Neill, Owner and General Manager of the Hamlet Court Hotel in Johnstownbridge, Enfield, Co. Meath emphasised:
"Having just completed the Fáilte Ireland Hospitality & Tourism Executive Development Programme in the IMI, I found the course very beneficial to my business and it has enabled me to work on the business, rather than in the business. The course has given me a set of tools and methods to evaluate all our operations. The business diagnostic tool has highlighted our core strengthens and weakness and has helped us develop a plan to move our business forward over the next five years. I would recommend this course to any hotelier, the networking has been invaluable."
Ann Waters, General Manager of Hook Lighthouse & Visitor Centre, said: "The Programme has been a fantastic learning journey for me, both professionally and personally. I have gained new insights and developed goals and strategies to develop sustained business growth at Hook. My mentoring visit with Frank Roche was very useful and he gave me great pointers for graphing out a future growth strategy for the Hook. Having completed the Programme, I am much more confident in strategising for major expansion and growth into the future."
For further information on the programme, contact: Michael Brady, Enterprise & Hospitality Development Officer with Fáilte Ireland at: michael.brady@failteireland.ie To apply for the 2019 programme, click here.