Related Articles
GradIreland Recruitment Awards 2016
GradIreland Recruitment Awards 2015 - And the winner is....
IMI Globally Ranked for Both Open and Customised Executive Education
IMI Improves Global Ranking as Executive Educator
Irish Management Institute Celebrates Final Graduation of 2017
IMI Awards Life Fellowships to Irish Business Leaders
IMI conferred Life Fellowship on four senior leaders for the impact they've had on the Irish business landscape and the country itself.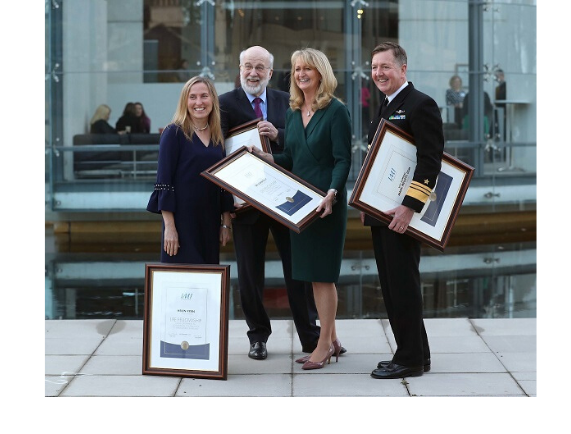 Helen Ryan, who was a major influence in Ireland's growth as a medical device sector hub, Dr Leisha Daly, Country Director of Janssen (part of Johnson & Johnson), Vice Admiral Mark Mellett, who has served as Chief of Defence, as well as the Deputy Chief of Defence and Chief of Navy and Sean Dorgan, who was Chief Executive of IDA Ireland for nine years, were all conferred with IMI's highest honour.
'It's a real honour to receive the Life Fellowship' said Helen Ryan. 'With all these awards, they are given to an individual but are generally the result of lots and lots of people working hard and being very committed, so I'm delighted to accept the award on behalf of all those people that helped me get to where I am today.'
'Really, I'm just lucky to be a conductor of an orchestra made up of the finest men and women this country has produced' said Vice Admiral Mark Mellet. 'I was once told a friend of mine said to me 'I have three rules for getting on in this world – the first is surround yourself with good people, and I've forgotten the other two…' and that for me that is what it is all about. We're a part of a bigger community and it's how we work with others that we can make change happen.'
Cathriona Hallahan, Microsoft Ireland Managing Director, Dr Phil Nolan, former Chairman of Ulster Bank, Siobhán Talbot, Glanbia Group Managing Director, and Stan McCarthy, former Chief Executive at Kerry Group, were all also named as IMI Life Fellows in 2018.
IMI recently became the first Irish executive education provider to be simultaneously listed on both the Customised and Open global rankings, published by the Financial Times. This global ranking follows the merger with University College Cork in 2016, combining UCC's expertise, relationships and global reach with IMI's global ranking, reputation for excellence and business community network to deliver distinctive executive education across Ireland and beyond.