Related
IMI Awards Life Fellowship to Anne O'Leary and Liam O'Mahony
IMI Awards Life Fellowship to Aongus Hegarty
IMI awards Life Fellowships to 'exemplars' of leadership practice
Frank Ryan, David McRedmond, Caroline Dowling and Lionel Alexander receive IMI's highest honour 
First in-person awarding of Life Fellowships since 2019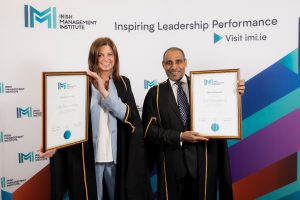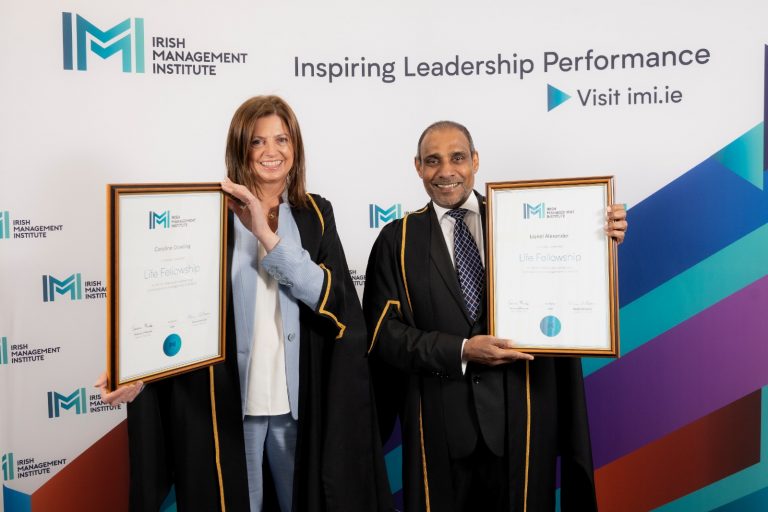 The IMI today conferred Life Fellowship on four senior leaders for raising the standard of management and leadership practice and for the impact they have had on business in Ireland.
Frank Ryan, Chairman of IDA, David McRedmond, CEO of An Post, Caroline Dowling, Non-Executive Director at CRH, DCC and UNICEF Ireland, and Lionel Alexander, Chairman of Intact Software, were all named as IMI Life Fellows at an in-person celebration on the IMI campus in Sandyford, Dublin.
"Life Fellowship is the highest honour that IMI can bestow," said Terence O'Rourke, IMI Board Chairman. "It is the means through which we publicly recognise and celebrate those who make a truly significant contribution to the practice of management and leadership in Ireland. Essentially, Life Fellows are those that have practiced and fulfil the ongoing mission of IMI to equip leaders to build the future."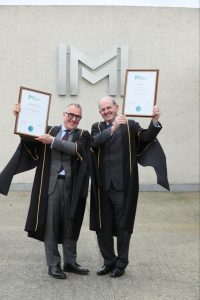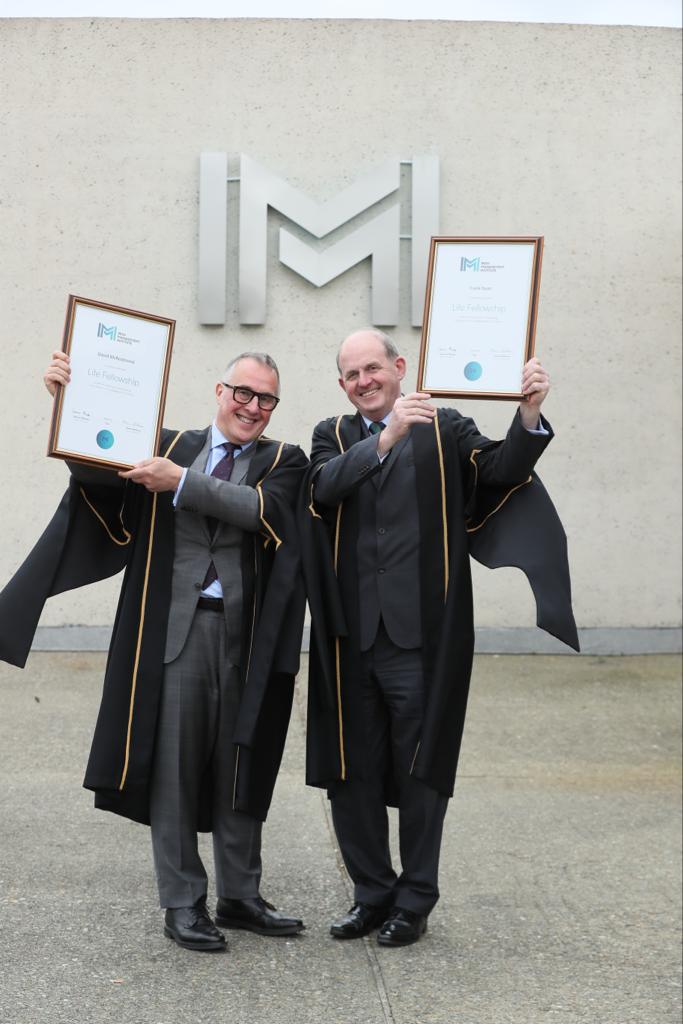 Dr Simon Boucher, the Chief Executive Officer of IMI, said: "It is a privilege to be able to recognise these exemplars of leadership with our Life Fellowship award. Their inspiring and visionary approach to leadership has set new standards in the Irish business landscape. Through their outstanding contributions, they have fulfilled IMI's mission to equip leaders to build the future."
The class of 2022 IMI Life Fellows join a prestigious list of business leaders and thinkers including T.K. Whitaker, Peter Drucker and Gillian Bowler. IMI will again be conferring the honour in the coming years on senior business leaders who have made a significant contribution to the Irish business landscape.
Frank Ryan, Chairman of IDA Ireland, said: "It is a magnificent honour to be awarded a Life Fellowship by IMI. More than anything, this award highlights the importance of public service. The time I spent studying at IMI was the springboard of my career."
David McRedmond, the CEO of An Post, said: "This is a fantastic privilege for me. Leadership is ultimately about having a sense of purpose and doing the things that bind us as we bring humility to how we lead our people."
Lionel Alexander, the Chairman of Intact Software, said: "I am truly humbled to receive this award. Leadership is not a destination, it is a journey. We have to have respect for those we lead and make sacrifices. You also have to put yourself in the shoes of your people and embrace diversity and culture. I congratulate IMI for elevating leadership practice through the adversity of recent times."
Caroline Dowling, a Non-Executive Director on multiple boards, said: "I am so proud to be here today and I am honoured to accept this award. As a leader, it is important to know where you want to go and who you want to go with. I have a global family from my time working around the world, but I want to pay special tribute to my family here today for supporting me."
Recent Life Fellowship recipients include:
Aongus Hegarty, President of Dell Technologies for EMEA
Cathriona Hallahan, Microsoft Ireland Managing Director
Dr Phil Nolan, former Chairman of Ulster Bank
Siobhán Talbot, Glanbia Group Managing Director
Stan McCarthy, former Chief Executive at Kerry Group
Helen Ryan, who was a major influence in Ireland's growth as a medical device sector hub
Dr Leisha Daly, Country Director of Janssen (part of Johnson & Johnson)
Vice Admiral Mark Mellett, Chief of Staff of Ireland's Defence Forces
Sean Dorgan, who was Chief Executive of IDA Ireland for nine years