Related
A&L Goodbody partners with IMI for unique lawyer development programme
Irish businesses pass Covid-19 'stress test', according to IMI-CUBS research
IMI Honours New Life Fellows
Brian McCarthy, Brid Horan and Liam Ryan awarded prestigious Life Fellowships
An IMI Life Fellowship is reserved for leaders who raise the standard of management and leadership practice, making a lasting impact on Irish business. It's fitting that Friday saw three senior Irish leaders conferred with the highest honour the Irish Management Institute can bestow, as part of IMI's Winter Graduation ceremony.
"The Fellows of IMI are a very special group of individuals, whose contributions both in Ireland and overseas set new standards and, in doing so, equip leaders to build the future, furthering IMI's mission," said Professor John O'Halloran, president of University College Cork. "Through their work, Life Fellows share their invaluable experience and lessons in leadership with IMI Alumni and Corporate Members."
An important and influential figure in Irish business, Brian McCarthy has continuously championed the development of rural Ireland. Since founding Fexco in 1981, the global payments company has grown to be one of Ireland's largest indigenous multinationals employing more than 2,300 people around the world, along with being a significant employer of high-value, sustainable jobs in the south-west region and investing significant time, money and expertise into the local Killorglin community.
"I am deeply honoured and thankful to the Irish Management Institute for awarding me this Life Fellowship alongside Brid Horan and Liam Ryan," said Mr McCarthy, who thanked Fexco for their support. Already a recipient of numerous awards including the EY International Entrepreneur of the Year, the Sean Lemass Award for Excellence in Marketing, and the RDS Gold Medal for Enterprise, Mr McCarthy has also served as committee member for the UCC Foundation, a Director of Radio Kerry, and Chairman of the Prisons Board of the Irish Prisons Authority.
With over 30 years experience leading private and public sector organisations, Brid Horan is the current Chancellor of DCU after eight years as Executive Director and Deputy Chief Executive with ESB. Prior to joining ESB, Ms. Horan headed up KPMG's Pension & Actuarial Consulting business, a Director of FBD Holdings, and served two terms on the Board of IDA Ireland and as a Commissioner of the National Pensions Reserve Fund. "To join the group of Life Fellows at the IMI is very humbling, I've worked with and really admired a number of them over the years, and to be recognised as one of them is a huge, huge honour," said Ms Horan.
A lifelong champion of education, the arts, equality and business, Ms. Horan has served on the boards of Chamber Choir Ireland and Dublin Theatre Festival and as a member of the Strategic Review of the Arts Council, along with being Co-Founder of the 30% Club Ireland and appointed as Co-Chair of Balance for Better Business by government when it was established in 2018 to set targets for and promote gender balance in business leadership.
As Managing Director of SAP Labs Ireland, Liam Ryan has overseen the growth of SAP's operations in Ireland which totals over 1,900 employees across forty lines of business in both Dublin and Galway. Mr Ryan began his career in Germany working for Siemens and Softlab AG before returning to Ireland with APV and then Motorola, before joining SAP in 1999. "I would like to thank the IMI Board for my nomination, and it did come as a complete surprise, but I was delighted to receive it," Mr Ryan said on the day.
Apart from driving tremendous commercial growth, Mr Ryan has spearheaded the internationally renowned Autism at Work employment programme and worked with stakeholders to increase awareness of autism in the workplace and promote accessibility and inclusion for autistic employees. Along with being a recipient of the Great Places to Work Most Trusted Leader award, Mr Ryan also serves on the Export Trade Council and the National Skills Council and is a chairperson of Fast Track to IT, an industry-led, skills development initiative to enable greater access to employment for marginalised job seekers.
The latest IMI Life Fellows join a prestigious list of business leaders and thinkers including T.K. Whitaker, Peter Drucker and Gillian Bowler. IMI will again be conferring the honour in the coming years on senior business leaders who have made a significant contribution to the Irish business landscape.
The IMI would like to extend its sincerest congratulations to our latest batch of Life Fellows, who have practiced and fulfil the ongoing mission of IMI to equip leaders to build the future.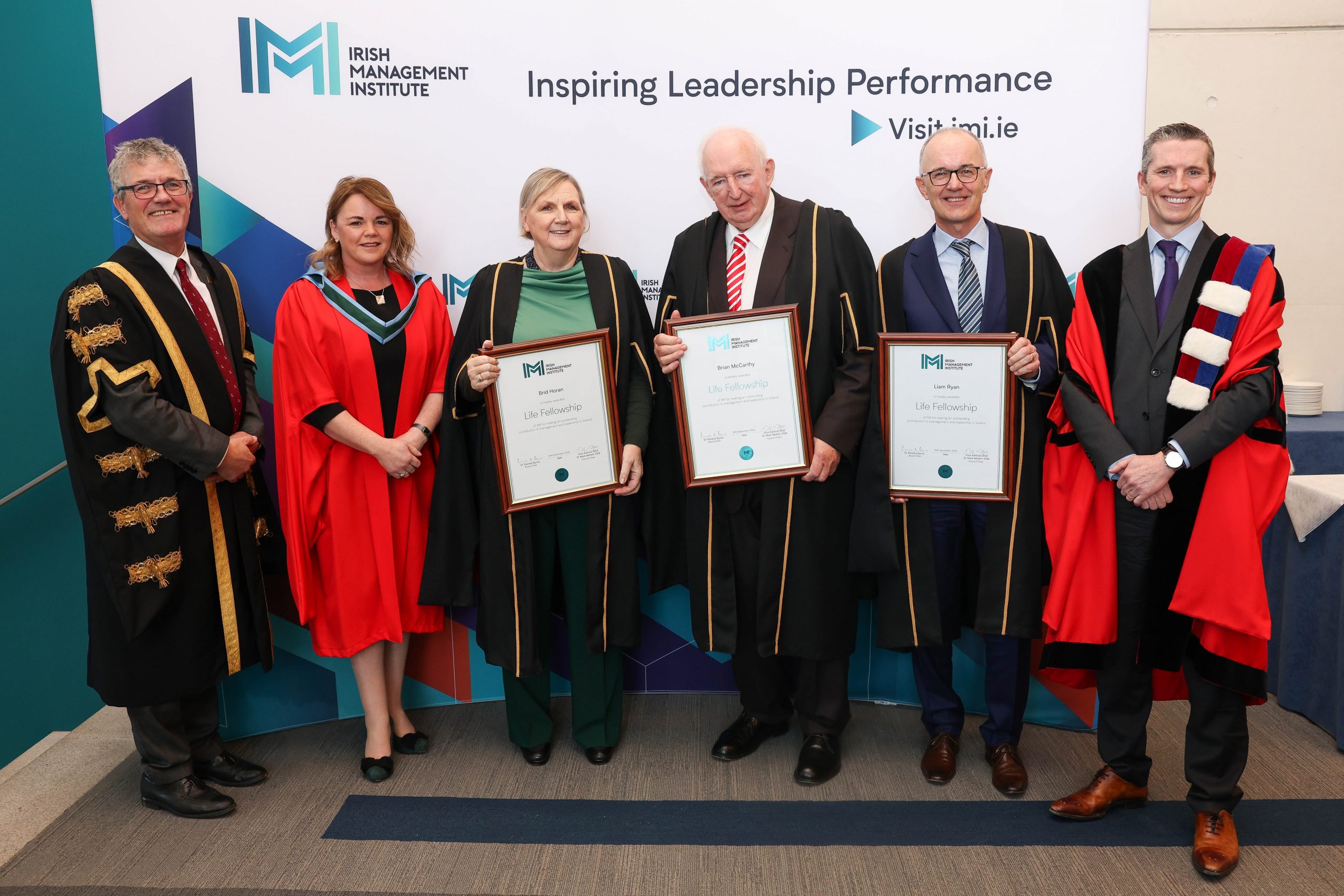 Pictured: (l-r) Prof John O'Halloran, Dr Pamela Byrne (IMI Board Chairperson), Brid Horan, Brian McCarthy, Liam Ryan, Dr Simon Boucher (IMI CEO)
Photo: Tommy Dickson