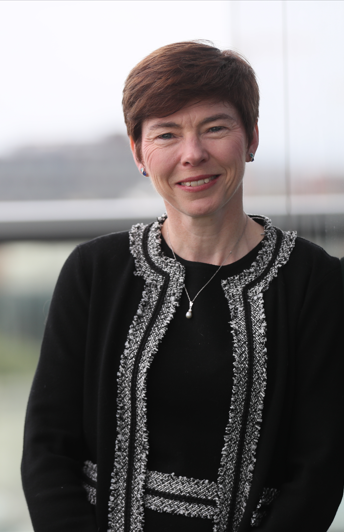 As the IMI Registrar Tara has responsibility for academic quality and governance in IMI, in particular ensuring the discharge of its related responsibilities as a subsidiary of University College Cork.  She leads the development of IMI's quality ecosystem as a whole, as well as the Registry and Customer Experience functions.  She is member of the expert review panels for QQI; SKVC, Lithuania; and ENQA, acting as chair, secretary or quality enhancement expert.
Tara has worked in a variety of public and private institutions, and always in Higher Education.  Immediately prior to taking up the role of Registrar with IMI, she led the registry team in Hibernia College as Registrar there, having joined Hibernia from Dún Laoghaire Institute of Art Design & Technology where Tara held the post of Educational Partnerships and Student Services Manager.  Tara also served interesting period as Head of Provider Registration at the Higher Education & Training Awards Council (HETAC) (subsequently established as Quality and Qualifications Ireland – QQI) 2008 – 2012.  In earlier times, she worked at Tipperary Institute, Ireland; the University of Limpopo and Edupark, Polokwane, South Africa; and at University College, Dublin.
Tara has a particular interest in the regulation and governance of higher education, transnational higher education, globalisation and internationalisation.  In the past she has participated in higher education review activities in a variety of contexts and roles in Ireland, as well as in reviews in Lithuania, Bosnia-Herzegovina, France, Germany, Romania and Tanzania.  Tara holds a Master of Arts in English from University College Dublin and a Diploma in Legal Studies from Technology University Dublin, and she graduated from the University of Bristol with an EdD in 2013.