In Brief
Who is it for:
Senior managers working in financial services, regulation and fintech
People per company:
Each organisation will ideally be represented by 4 participants representing 4 divisions.
Duration:
6 modules of 2 days + 1 launch event
Location:
Non-member fee:
€30,000 (per organisation)
IFS Skillnet member fee:
€22,500 (per organisation)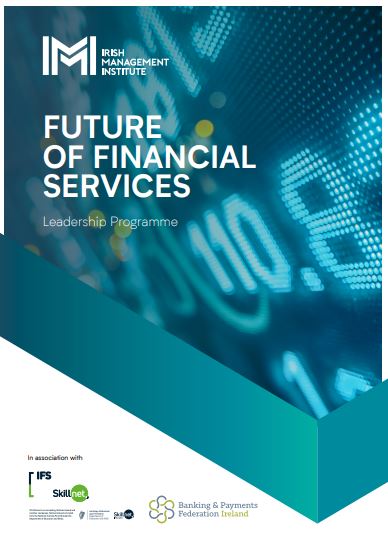 Download the Brochure
Why choose this programme?
The Future of Financial Services Leadership programme will allow you to align leaders across divisions towards the transformation – digital and otherwise - demanded of organisations in the sector.
Through collaboration and debate with sector stakeholders, led and facilitated by experts, your leaders will return with better knowledge and clarity on key actions they will take to embrace the disruption ahead.

Agile Leaders
Develop a new form of agile leadership with the ability to lead and deliver change across a complex ecosystem.

Lead Change
Be at the forefront of the Irish government's strategy to make Ireland 'a top-tier location of choice for specialist international financial services'.

Collaborate and Disrupt
Collaborate and learn from industry experts and specialised peers. Become comfortable with disruption and find the opportunities it brings.
Programme Director: Chris Roebuck, Economist
We sat down with economist and financial services expert Prof. Chris Roebuck, Programme Director for the Future of Financial Services programme, to discuss the future of financial services, and what leaders from banking, fintech, big tech, start-ups and the regulators themselves need to do in this new environment.
Key programme takeaways

Accelerate Performance
Critically examine where you are today, and the avenues open to progress.

Use technology and leadership accelerators to make a step-change in performance, leveraging each with the other to aim for exponential growth.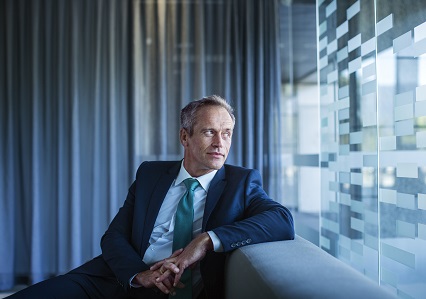 Agile Leadership
Get your senior leadership team ready for disruption.

With the world reaching several economic, political and technological inflection points, financial leaders need to be ready to shift gear and change direction at any moment.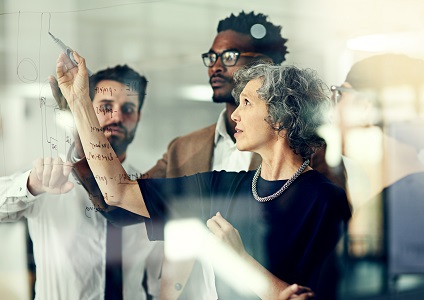 Strategic Influence
Be at the heart of Ireland's national and international finance strategy.

An industry led initiative; this programme is a formal action item on the Irish government's IFS 2025 plan.

Programmes themes
Scoping the future landscape
Explore the revolution of current trends, the technology accelerators driving the change, and identify the levels that will define the successful future financial enterprise.
Mastering disruption
Identify and master the forces of disruption impacting the financial services sector.
Shaping the organisation
Evaluate how future-ready your organisation is and develop strategies that identify key challenges and opportunities.
Creating followership
Create an agile and purpose-led followership that will be catalysts for organisational change
Delivering stakeholder value
Explore best practice in stakeholder mapping and management, discover the latest research in consumer behaviour, and develop the decision-making ability to successfully navigate complexity.
Creating sustainable impact
Create a long-lasting legacy by developing your executive presence to influence and impact stakeholders, leading your organisation with purpose and vision.
Programme Partners
We are proud to be partnering with IFS Skillnet and the Banking and Payments Federation Ireland on the Future of Financial Services Programme.
Sector and Industry Programmes
IMI run a number of sector-specific programmes, aimed at bringing industry together on a consortium basis to share challenges and solutions under expert guidance.