Your Passport to Performance

The Master of Business framework gives you the flexibility to choose the subjects that are right for your needs, while building up to a Masters. Each element of your journey promises to be an energising learning experience leading to a world class qualification.
There are two pathways you can take to achieve your Masters qualification with IMI. Both pathways require you to complete two Professional Diplomas before choosing a final capstone programme to bring your learning together in an integrative experience, that will positively impact your professional career and your organisation.
The capstone programmes are focused on rigour and imbued with relevance, improve confidence and self-perception, hone knowledge and skills, and emphasise reflective practice.
All programmes are validated and awarded by University College Cork, and are at level 9 on the National Framework of Qualifications. You can complete the taught element of each Professional Diploma on a modular basis over a 6-month period, and have up to six years to complete all elements of the Framework.
Master of Business Framework Pathways
The first step on your Master of Business journey is choosing an IMI Professional Diploma. Using our High Impact Transformation philosophy, these Professional Diplomas will challenge your mindset and push your perspective.

The Advanced Performance Programme is for professionals who want to bring their leadership capabilities to a new level. Through a blended focus on the environment, the organisation, and the individual, the APP serves to synthesise the learning outcomes of your IMI journey.

The Business Research Project is for those professionals who want to address a complex business challenge and execute a strategy or develop a strategic response that could change the future of their organisation.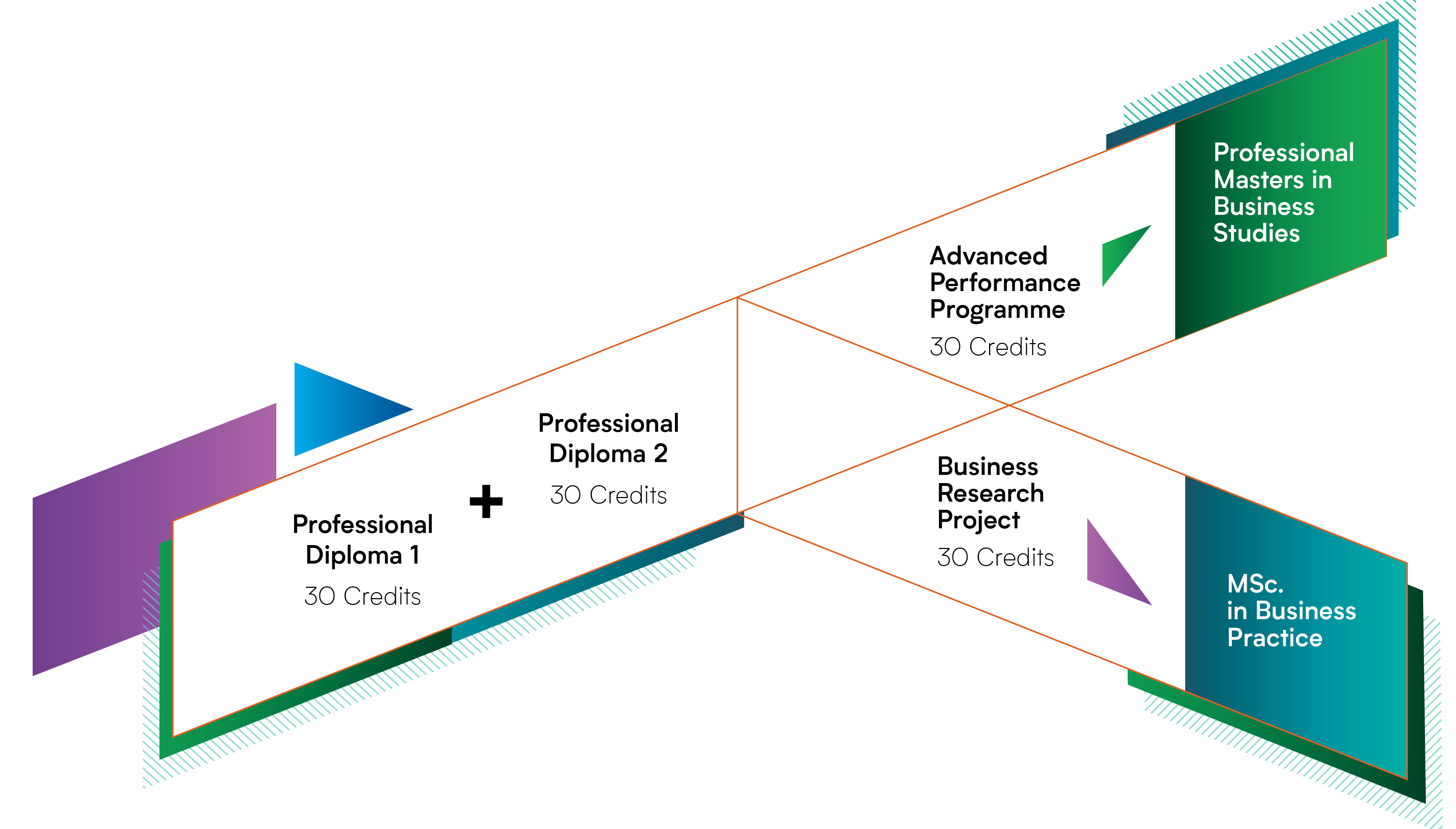 "The IMI Master of Business was truly a terrific journey for me both personally and professionally. A different way of learning, especially for very busy people. The style of learning really suited me, hugely supportive lecturers and best in class speakers. Flexible, innovative and very real diplomas, grounded in my unique business and personal needs. For me personally it gave me a new sense of confidence in my own leadership style together with a new set of skills to enhance how I work every day. Each of the three parts of the Masters knitted together a real blend of what I needed, and also gave me a much broader perspective on other businesses. I developed incredible relationships with my fellow students that will last forever!"

Carol Andrews

Global Head of Client service Delivery, BNY Mellon
''The flexible format afforded me the opportunity to complete a Masters at times and at a pace that best suited my work and personal life. The range of complimentary diplomas allowed me to choose a path that was tailored to my learning needs and interests. The quality of lectures and materials provided was of a very high standard but what I most enjoyed was the interaction with like-minded professionals from a wide range of industries and roles. Overall this was a great experience and I'm glad I chose IMI.''

Paul Diver

Principal HR Business Partner, Amazon Web Services
Capstone Programmes
Combining IMI's High Impact Transformation learning methodology, expert global faculty and inputs from world-class thought leaders, these programmes act as a synthesizing capstone for leaders completing the Master of Business.
Advanced Performance Programme
Forging leaders for a strategic world
The Advanced Performance Programme concentrates on empowering and enabling high performance – positioning you to lead from the front in driving your organisation's future achievements.
Through this highly applied and experiential programme, you will develop expertise, tools and insight across a range of contemporary themes that are central to success in a world of ever-greater uncertainty and opportunity.
By completing the Advanced Performance Programme you will be equipped to take the next step as a future-fit, high-performance executive.
Business Research Project
Solve a business challenge
Allowing you to take the time and space to tackle a complex business question and produce innovative solutions, your organisation will directly benefit from the practical, best-practice driven recommendations which will be the output of your Business Research Project.